I am sure in your fridge and pantry right now there are items in jars- pasta sauce, pickles, jelly and peanut butter. So when you use up what's inside- sure you could recycle them. But how about repurposing them! Here are some
ideas to repurpose jars
and give them a second life. And I will start with my fave (and one you may not have heard of):
Ideas for Repurposing Jars
1. Keep Berries Fresh
When you get a pack of blueberries, don't keep them in that plastic container.  Remove them, but don't wash them and then transfer them to a glass jar. Wash them when you are ready to use. You will be so surprised how much longer they last! (Thanks to my dear friend Melody's mom, Linda for this awesome tip!)
2. Vase
These are perfect for cut flowers from your garden or I like to splurge sometimes and pick up Manager's Special flowers for my self. 😉 A.d using a variety of shapes and sizes has a thrifty chic look.
3. Nuts, Bolts and Nails
 Jars (glass or plastic) are perfect for organizing your workshop or garage. This is one handed down by both of our dads. (my dad built a cool rack that the lids are all attached to, and it spins!)
4. Leftover Paint
 When you are done with a room painting project you often have just enough paint left over for touch ups. Instead of keeping an entire can for a few cups, use a jar! Be sure to write the details on the jar – color name, room used in, date of use.
5. Pantry Food Items
Often you open a package of food but don't use it all in one shot. Being able to tightly seal a jar makes them great for keeping food fresh- oatmeal, chocolate chips, bread crumbs, goldfish… more!  Also the clear jars make it easy to spot what you need. (Great for homemade items too, like my granola!)
6. Tea Light Holder
Whether it's a real flame to one of those light bulb variety, a table setting with several different sized, shaped jars would be so adorable!
7. Batteries
Not only do jars make great storage containers for new batteries (much easier to store and get out of than those blister packs) but they are good for dead ones too. Dead batteries should be disposed of properly, so save them up and get rid of them all at once. You can also check local hospitals sometimes they recycle them.
8. Desktop Organizer
Store pens, pencils, scissors, markers, letter openers…you get the picture!
9. Loose Change
I keep a jar on my washing machine, hubs always seems to have a few coins in his pockets.
10. Crafting Supplies
Baby food jars are great for small pins and buttons. And the clear jars are great for ribbons and other crafting what nots since you can easily see what's inside.
11. Consequence/Reward Tokens
As a parent, you try all kinds of way to teach your kids "right behavior" and many parents have resorted to some kind of consequence or reward token system. Repurposed jars are perfect for this.  Tape a note to the outside to help your child visualize what the tokens are for (pictured is our "consequences" jar for poor choices.  We also have a "happy" jar that we would move the tokens between according to their actions. However, I curiously could not find it to take the pic!)
UPDATE:
12. Commission Jars
Reader Marcie shared a great way she repurposed candle jars for her son's Give, Spend, Save Commission Jars
UPDATE 2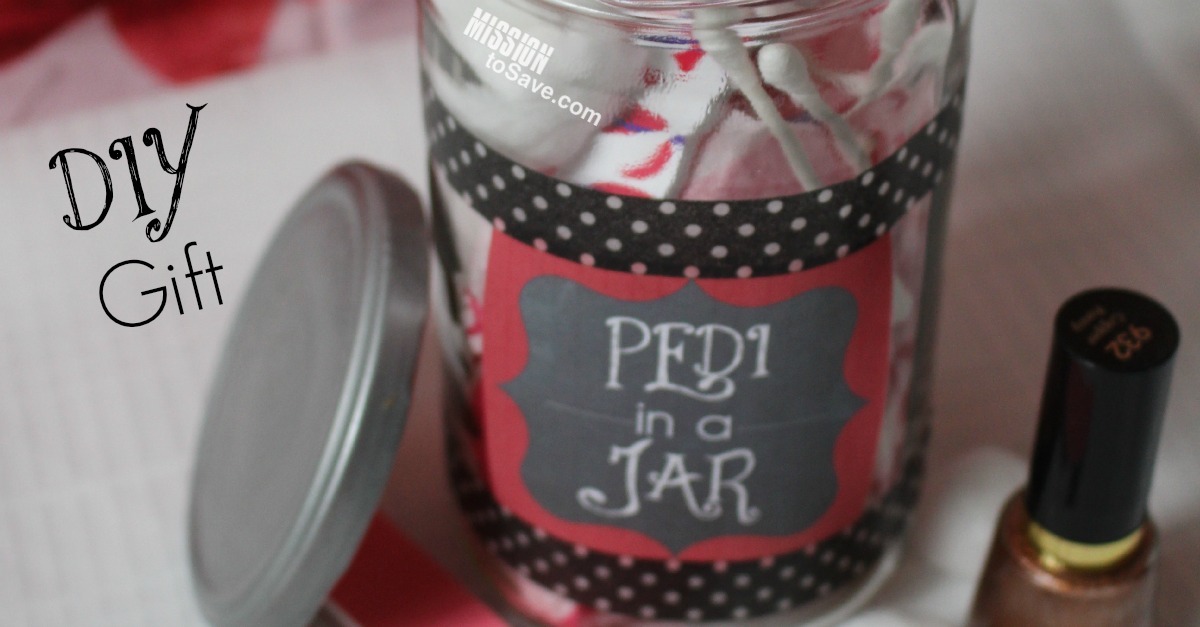 13. Gifts in Jars-
Mason Jar DIY gift ideas are all the rage right now (thanks to pinterest).  I have made a couple that are really cute, super easy and thrifty too.  Both come with a free printable gift tag too.  Check out my Pedi in a Jar, Ombre Candy Jars and Rainbow Candy Jar DIY gift ideas!
There are 10 times more ways to repurpose jars.  What are your ideas?
Like this idea, then Pin it! Do you have an awesome repurposing or up-cycling idea? I would love to hear about it! Send me a picture and description to amissiontosave @hotmail .com and maybe your idea will be next month's post (I'll give you all the cred, promise)!
It's time for the Thursday Repurpose post. Each month I bring you a great idea for repurposing items that would have been headed to the trash or recycling bin. There are so many items in our homes that we can reuse and repurpose (instead of sending to the land fill)
As my Father-in-law says "if you use something twice, it costs half as much">>>tweet this!