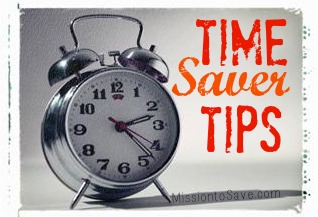 Sometimes you need to save more than just money- time, effort…. So here is a
Time Saver Tip
for you.
Kitchen Hack for Cutting in Butter!
If a recipe calls for cutting in butter, I have a quick way to do this.  Pull out your cheese grater!  That's right!  Put a mark on your butter for how much you need for the recipe, then hold the butter by the wrapper at the end and start grating!  This will make it easier to break it down with a pastry blender (or I just use a fork) when you mix the ingredients together.
Yeah, headache averted and time saved! 😉  Do you have any great Time Saver Tips? Kitchen or Life Hacks?  Send them my way and I will give you the credit!