LAST DAY!
It's Fashion Friday with a Spring flair. Swingy Spring tunics and leggings are the perfect pair for the season.  And Cents of Style is featuring two of their favorite tunics for this Spring. They are available in multiple colors, and fitting sizes 0 – 18….and highlight two of this Spring's hottest trends. We want to know: will you be wearing the babydoll or keyhole style this Spring? It's ok if you answer both. We are kind of in love with all of them. These tunics are right on trend, look amazing on a variety of body styles.
Fashion Friday Story – 3/24/17 – Tunics for $19.95 + FREE SHIPPING w/code TOPSTORY

I chose to go with the keyhole style tunic.  Because I am a shortie- ha!- this tunic is actually more like a swing dress on me.  I love the 3/4 sleeves for spring.  And the little details like the front (and back) keyhole and the seam across the chest add just the right style.
User the code TOPSTORY and it will make each tunic $19.95 + FREE SHIPPING. The code is valid 3/24 – 3/26.
Fashion Friday Story – 3/24/17 – Tunics for $19.95 + FREE SHIPPING w/code TOPSTORY
Since leggings are the mom-wear trend these days, I thought I'd style this tunic with a printed pair and a solid pair in a fun spring color.  I actually really love the navy blue and coral color combo.  I wore the coral outfit yesterday with the boots shown below, perfect for winter to spring transition.  But I can't wait to get the toes painted to wear it with sandals too.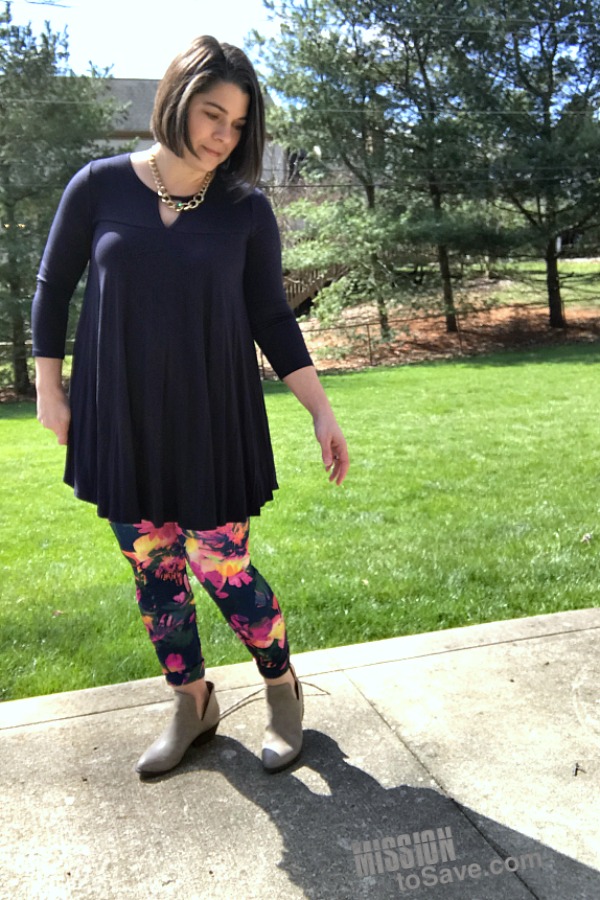 Speaking of those boots!   These ankle boots are like my new fave footwear! They are just the right shade of beige/grey/taupe.  Perfect for winter spring transition. And for those just trying out the printed leggings trend (like me) a solid tunic top is a great way to ease into the trend.
I think I may also go back and buy one of the babydoll style tunics too. That light green color is perfect for spring and would look great with a pair of white skinny jeans too. Which tunic would/will you buy? Or buy both! These are awesome wardrobe stables to have in a variety of colors too!