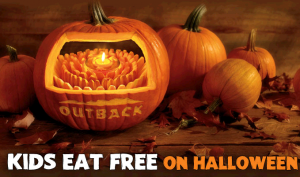 Outback Steakhouse has carved out two delicious deals for you this Halloween:
1. Kids Eat Free with any purchase on 10/31/12 (w/ adult purchase, 10 and under)
2. Find the Treat and you'll get a Free Steak Dinner for your next visit (look for a "you found  the treat" logo in the beverage book on your table)
Don't forget to check out my Roundup of all things Halloween and my Halloween Candy Matchups for This Week
Like this post? Check these out too!